Novità Artdeco: "Be part of Glamtopia" per il make up delle feste
La collezione dedicata alle feste di fine anno di Artdeco  si chiama "Be part of

G

lamtopia"

e propone una ricca gamma di prodotti per realizzare make up raffinati e glamour.
Eccoli nel dettaglio!
Translucent Shimmer Powder è una polvere compatta trasparente che uniforma la pelle con un effetto di luminosità discreta. Si adatta al tono della pelle alla perfezione. La confezione con design di prismi 3D la rende anche un bellissimo regalo per le amiche appassionate di beauty.
È senza parabeni e adatta anche per le pelli sensibili. Il prezzo è 37 euro.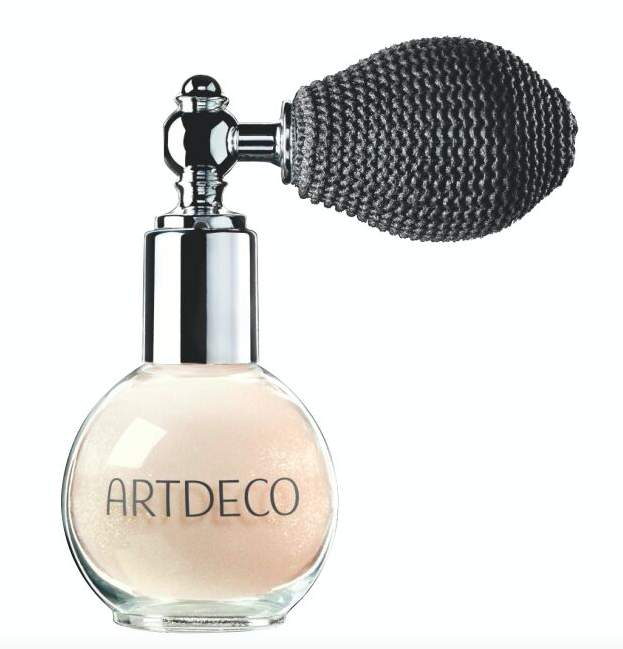 Glamtopia Blush è un blush che, grazie alla combinazione di tre colori, si adatta a ogni tonalità di pelle e può essere applicato da solo o miscelato con gli altri.
È senza parabeni, lanolina, oli minerali e profumi. Il costo è 32 euro.
High Intensity Precision Liner è il nuovo eyeliner liquido della linea, che si caratterizza per un colore intenso e duraturo e un pennello con punta ultra precisa per tracciare linee ben definite e dare così intensità allo sguardo. La punta è a pennello stretto e flessibile in finissime fibre sintetiche singole. La texture è altamente pigmentata e di colore nero profondo.
È un prodotto a prova di sbavatura, waterproof e dalla durata molto lunga. Il prezzo è 26 euro.
Galaxy Eye Powder contiene particelle glitter multiriflettenti in combinazione con colori metallici. La texture in polvere setosa e cremosa consente un'ottima sfumabilità. Contiene vitamina E, ed è senza parabeni e profumazioni. Il Galaxy Eye Powder è altamente pigmentato e disponibile nei colori N°6 grey metallic, N°14 white diva e N°54 rosy starlet. Il prezzo è 17 euro.
Lip Jewels è un rossetto che sfoggia una texture lucida e presenta innumerevoli particelle scintillanti, per dare alle labbra un originale finish metallico. Contiene ingredienti come l'olio di noci del Brasile e la vitamina E e si caratterizza anche per una leggera profumazione di vaniglia.
È disponibile nei colori N°24 purple stars, N° 30 showgirl. Il prezzo è 23 euro.
Glamour Gloss è un lucidalabbra con particelle brillanti che riflettono la luce in maniera unica. È a lunga durata e ha un finish metallico. Lo troveremo nella versione N° 92 purple fame. Il prezzo è 17 euro.
Crystal Beauty Dust, uno dei prodotti indispensabili per le feste, illumina la pelle come non mai! Si tratta di un illuminante che può essere applicato su braccia, decolleté e persino capelli con particelle di polvere glitterata che si fondono perfettamente con la pelle.
Ha un pratico flacone in spray ed è disponibile nella versione N°6 glitter rain. Il prezzo è 27 euro.
Con le novità make up  firmate Artdeco  durante  il  Natale 2019  brillerete come una stella!
#artdecocosmetics #artdecobeauties #cosmesi #beauty #bellezza#innoxa