Chanel Métiers D'Art 2019/20, il make up per la sfilata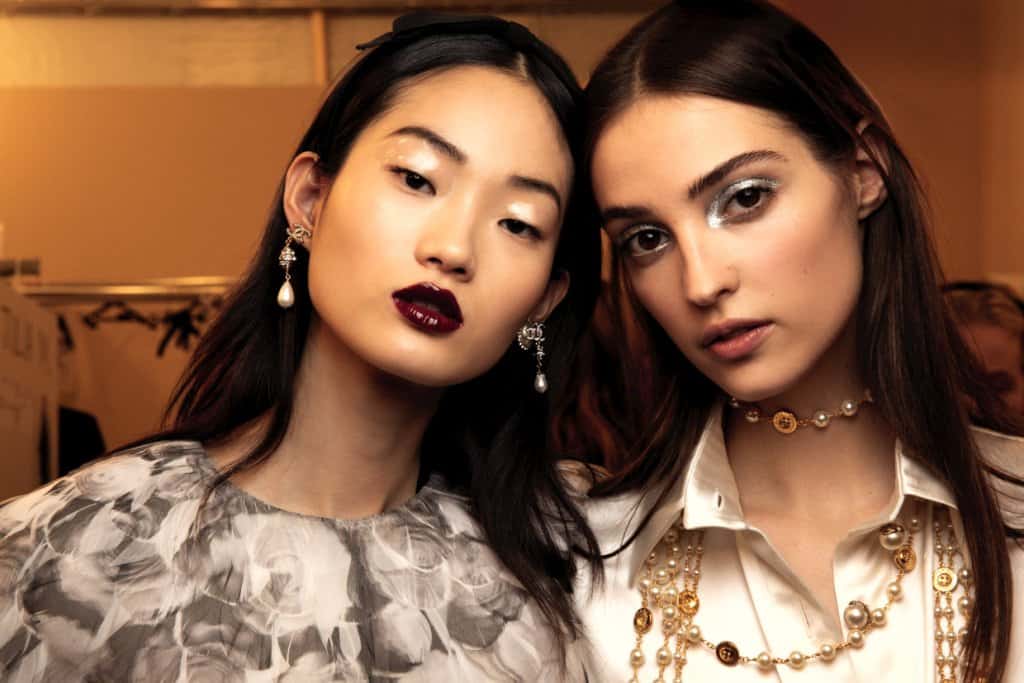 Siete pronte a scoprire il dietro le quinte della sfilata Chanel Metiers D'art 2019/20? Ecco le scelte make up fatte da Lucia Pica, Chanel Global Creative Makeup and Color Designer, l'ispirazione dietro una delle sfilate più belle della Maison e i prodotti utilizzati per realizzare trucchi da sogno.
Chanel Metiers D'art 2019/20: l'ispirazione e i look principali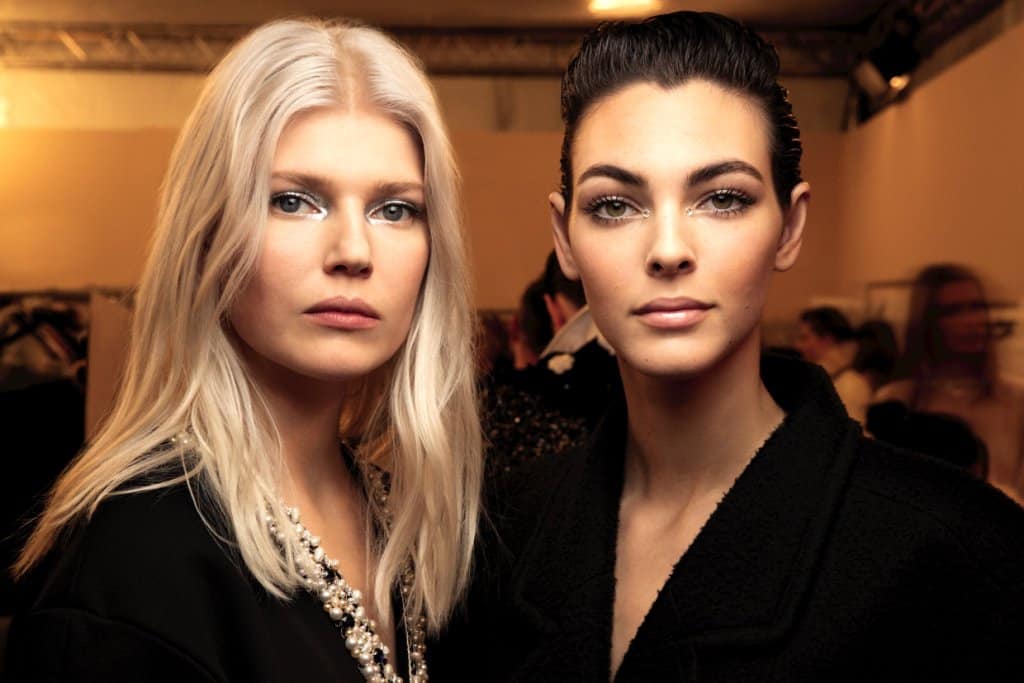 Lucia Pica ha scelto di giocare con texture e materiali diversi per il make up realizzato per la favolosa sfilata Chanel Metiers D'art 2019/20, ispirandosi a giochi di specchi e alla minuzia artigianale dietro le creazioni Metiers d'Art.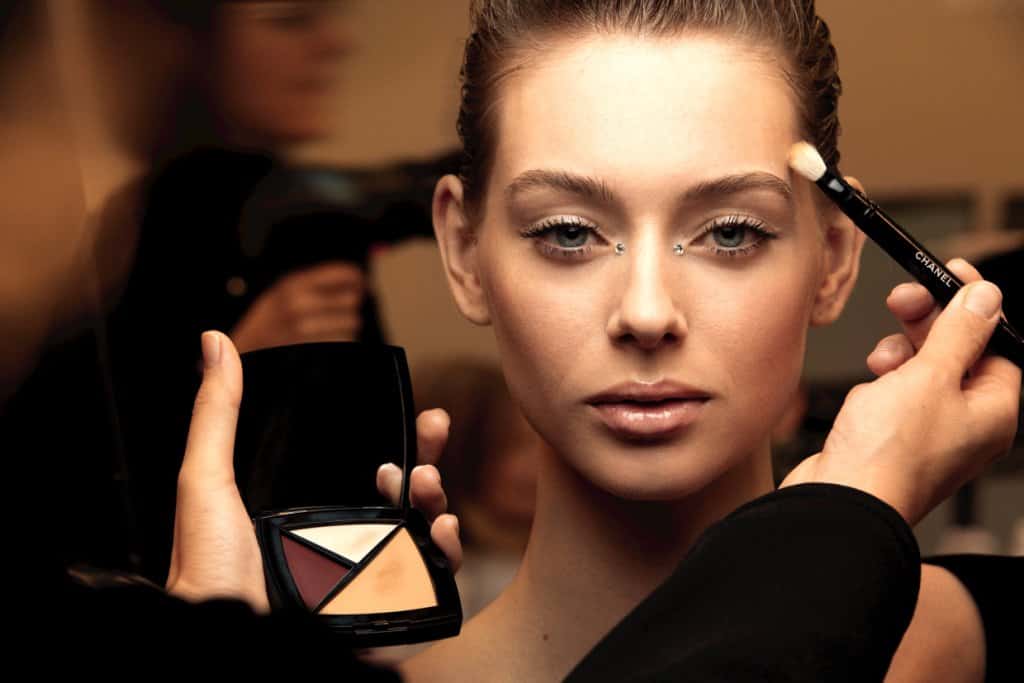 Tanti i look make up particolari che hanno sfilato in passerella, a cominciare dal primo, un trucco dagli accenti androgini in cui al BAUME ESSENTIEL Transparent si sono alternati tocchi di strass posizionati all'angolo interno dell'occhio per catturare la luce. Mentre il mascara LE VOLUME REVOLUTION DE CHANEL MASCARA 10 Noir on ha aggiunto carattere allo sguardo delle modelle, usato anche sulle ciglia inferiori.
Con la palette LES 4 OMBRES 334 Modern Glamour è stato realizzato un trucco occhi sui toni dell'argento molto sofisticato, dai tocchi minimal anni '90, che dall'angolo interno scorre sotto l'occhio, per dare profondità e una luminosità unica allo sguardo.
Utilizzando poi il fondotinta LES BEIGES EAU DE TEINT, Lucia Pica ha potuto realizzare una base viso perfetta e impeccabile. Ha concentrato l'attenzione in un secondo momento sulle labbra con un tocco di gloss in una calda sfumatura di burgundy.
Le labbra sono state definite con la matita LE CRAYON LEVRES 188 Brun Carmin. In seguito è stato applicato il rossetto ROUGE ALLURE VELVET EXTREME 130 Rouge Obscur e per concludere è bastato un tocco di ROUGE COCO GLOSS 772, per intensificare l'effetto in maniera incredibile.
In tutti i look le sopracciglia sono state curate per avere un aspetto androgino e mascolino, ma sempre molto ricercato. Per perfezionarle la Pica ha usato LE STYLO SOURCILS WATERPROOF e THE GEL SOURCILS, perfetti per garantire volume e intensità.
Scoprite anche la collezione Chanel per Natale 2019.
I suggerimenti di Lucia Pica per un trucco irresistibile
Ma una volta viste le novità più interessanti utilizzate per il make up Chanel della più recente sfilata, Lucia Pica ci dà anche alcuni suggerimenti su come realizzare un trucco duraturo e impeccabile.
Per prima cosa ci suggerisce di utilizzare la matita labbra per colorare non solo il contorno delle labbra, ma tutta la superficie. In questo modo otterremo un colore di base uniforme. Quindi potremo applicare un rossetto pigmentato e un gloss per aggiungere un tocco di luce a tutto il look in maniera sofisticata ed elegante.
Il prodotto che più le è piaciuto utilizzare è il BAUME ESSENTIEL Transparent, perché? È perfetto per creare un effetto gloss sugli occhi, aggiungendo un tocco di freschezza e naturalezza a tutto il look. Ideale da utilizzare tutti i giorni, soprattutto quando siamo di corsa, per rendere il trucco raffinato in pochissime mosse.
Scoprite anche il make up della sfilata Haute Couture di Chanel.
Cosa ne pensate delle novità Chanel utilizzate per la sfilata Metiers D'art 2019/20?