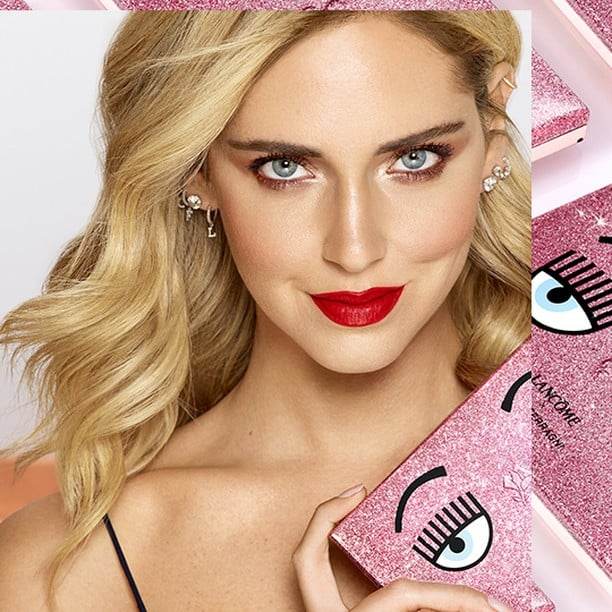 Si chiama Lancome x Chiara Ferragni il frutto di una collaborazione make-up che si preannuncia come un successo mondiale. L'icona di stile, punto di riferimento per tantissime donne di ogni età, con più di 16 milioni di follower, una delle imprenditrici di maggior successo degli ultimi anni oltre che madre e donna di carisma, ci propone una linea di make up unica, assolutamente da scoprire.
Lancome x Chiara Ferragni: la prima collezione make-up
https://www.youtube.com/watch?v=pa6Yj0ZgE7U
Tutti conoscono Chiara Ferragni, soggetto di due case study ad Harvard e nominata da Forbes come la fashion influencer più impattante al mondo. È lei la donna del momento, la più imitata, amata e chiacchierata, un modello di riferimento sia in fatto di look che in fatto di successo professionale, ma sempre e in ogni caso sulla cresta dell'onda.
La nuova collezione di make-up che nasce dalla collaborazione con Lancome la rispecchia in tutto e per tutto, una linea esclusiva in cui trovare articoli must have alla moda, prodotti unici che ogni appassionata di beauty sogna di aggiungere alla propria collezione personale. Nel co-produrre la collezione, il marchio ha voluto articoli che rispecchiassero i look make-up di Chiara, dai meeting, agli eventi serali, fino a quelli più casual per il tempo libero passato con suo figlio.
"Volevo creare una collezione make-up che rappresentasse il mio stile al 100%. Questa è la ragione per cui ho lavorato con Lancome. Abbiamo studiato un prodotto e una comunicazione perfetti per le ragazze della mia generazione. Flirty, ispirazionale e divertente sono le tre parole chiave di questo progetto. Credo davvero che il make-up sia l'arma perfetta per sentirsi meglio con sé stesse, per affrontare le sfide di tutti i giorni e per raggiungere i propri obiettivi con tenacia."
Ecco la collezione raccontata da Chiara Ferragni. Diamole uno sguardo nel dettaglio.
Scoprite anche le novità make up Lancome per l'estate 2019.
Lancome x Chiara Ferragni: tutti i prodotti e i prezzi

A caratterizzare la linea è il simbolo iconico, gli occhi scintillanti, che hanno reso famosa la linea di abbigliamento e accessori Chiara Ferragni Collection nel mondo. Li vediamo sulla confezione oro rosa metallizzato della palette per viso e labbra a cui si aggiungono 3 shade esclusive di L'Absolu Mademoiselle Shine, un trio di L'Absolu Lacquer e una edizione limitata del mascara Hypnôse Drama.
La Flirting Palette
L'oggetto più desiderato della collezione, la Flirting Palette, presenta il logo Chiara Ferragni Collection è comprende sfumature metalliche e rosate, le più indossate dall'influencer, avvolte in un packaging disegnato da lei stessa. L'interno del packaging è stampato con il suo simbolo flirty. La palette, al prezzo di 65,18 euro, comprende:
Quattro rossetti in stand-out shade
Quattro ombretti da sfumare
Un blush rosé
Tre illuminanti scintillanti
Un gloss per il ritocco finale

Tre pennelli
3 shade in edizione limitata di L'Absolu Mademoiselle Shine

Ecco anche le tre nuove colorazioni del must have della maison Lancome, dalla formula idratante in nuances intense e femminili dal profumo floreale e fruttato, al prezzo di 35 euro:
N° 0705 Positive Attitude

N° 0605 Independent Women

N° 1903 Kinda Flirty
3 shade in edizione limitate di L'Absolu Lacquer

Ultra luminosi e modulabili, i 3 nuovi colori de L'Abrolu Lacquer idratano le labbra in una sola passata. Hanno il nome di date speciali della vita di Chiara. Il prezzo è 36,77 euro.
N° 1987 Girl Next Door

N° 2017 Power Talk

N° 2018 Sweet Mom
Hypnôse Drama mascara in limited edition
Per completare il look, è immancabile il leggendario Hypnôse Drama che costruisce il volume ciglia-per-ciglia e si veste con il design della limited edition di Chiara. Un prodotto esclusivo, perfetto anche come idea regalo per la amiche beauty addict. Il prezzo è 36,77 euro.
Date uno sguardo anche al profumo Lancome La Vie Est Belle En Rose.

La collezione sarà disponibile in esclusiva presso le profumerie Douglas a partire da giugno 2019, un'occasione da non farsi scappare.