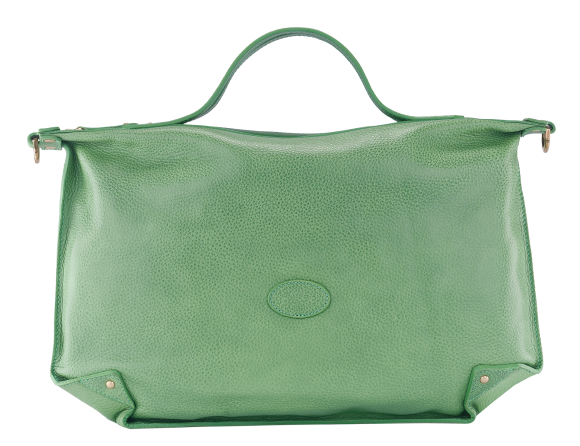 I colori caldi e vibranti della Toscana accendono la collezione P/E 2013 The Bridge. Il giallo del sole, il verde dei prati, il blu del mare della Toscana li ritroviamo tutti nelle nuove borse della collezione  The Bridge P/E 2013.
Una collezione che regala femminilità e che , grazie all'estrema comodità delle tracolle con chiusura a patta, delle sacche comode e easy, da portare everyday, delle shopper multi size e dei bauletti super soft, si presta ad accompagnarci per tutto l'arco della giornata. Sorprendente ed inedito il tocco di colore dato dal bianco e dal rosso, che risaltano  su suede o  canvas spalmato, rendendo  per  la collezione donna ancora più sofisticata e chic. Molto pratiche le nuove borse-utility dalle forme strutturate e i modelli ladylike, perfette per la giornata da professionista ma anche per una passeggiata in città.
Per l'uomo le proposte più nuove sono i morbidi borsoni per il tempo libero,  le cartelle in cuoio per la vita professionale, dal sapore selleria tipico del brand e messenger da portare con sé negli spostamenti da urban traveller.
UNICA E UNICA SUEDE Prendendo spunto dalla Unica bag, la shopper due manici della scorsa collezione, nasce una nuova linea di sacche, tracolle, secchielli, in morbida pelle sfoderata con tagli a vivo. Le forme sono estremamente pulite e lineari, le chiusure o con una zip o con una patta, le tracolle staccabili. I colori sono corposi e brillanti sia nella versione in pelle e sia nella versione in suede.
BUREAU Una capsule in cuoio per le nuove shopper dalle linee pulite e geometriche con tasche esterne per la donna professionista e urbana o che ama trasformare la sua utility bag in una shopper adatta anche alle socialite.
MANHATTAN Forme classiche ma contemporanee per shopper, bauletti, tracolle in morbida pelle, impreziosite da cuciture a vista stile selleria. I colori accesi e vivaci la trasformano in una linea adatta a tutte le occasioni, sia per il tempo libero che per le giornate urbane.
 SAILOR In canvas spalmato, il tessuto simile a quello della vela, sono borse e sacche adatti ai climi più caldi. Le rifiniture in pelle, in contrasto, e le nuances brillanti, oltre alle zip esterne, le trasformano in accessori giovani e portabili, allegre e trasversali, adatte al tempo libero per un look sport chic.
HERITAGE LIGHT Il pattern a righe Heritage viene ripresentato in un materiale tecnico e leggero con le rifiniture in contrasto che conferiscono movimento alle pieghe e alle cuciture per un effetto finale giovane e contemporaneo.
HERITAGE SAILOR La linea ripropone gli articoli in canvas spalmato con il classico motivo a righe Heritage ma mixato con i colori dell'estate.
SFODERATA LUXE La linea giovane e lineare, in pelle superleggera, con le rifiniture a taglio vivo, aggiunge tra i materiali usati, quello appartenente all'identità del marchio, il cuoio morbido e naturale, che mantiene le forme destrutturate della collezione. Completano la linea alcuni accessori per il mondo "business".
CHATWIN Una capsule  collection di borsoni, tracolle, cartelle e borselli dal vago sapore retrò. Un richiamo al mondo dei fifties' e all'atmosfera dei college americani. Colori caldi e naturali. Linee pulite e morbide grazie ad un'unica pince che forma una maxi tasca esterna. Per un uomo sofisticato che ama la cura e la ricercatezza dei particolari.
Foto by The Bridge
Claudia Di Meglio