Registrati a BIT 2012 e vinci Malesia o Maldive!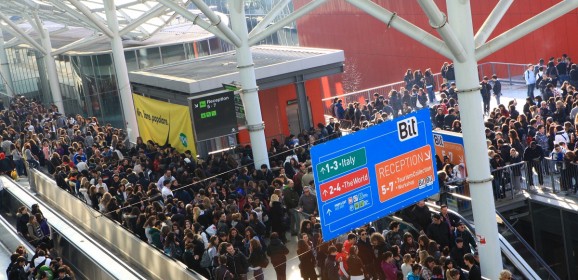 Quest'anno la Borsa Internazionale del Turismo, che si svolgerà al quartiere Fieramilano di Rho da giovedì 16 a domenica 19 febbraio – ti porta in Malesia, terra di contrasti dover convivono moderni grattacieli  ed  isole incontaminate, dall'acqua cristallina, e alle Maldive, per conoscere un mondo sommerso che non manca di sorprendere con le sue meraviglie ed i suoi colori. Come? È sufficiente pre – registrarsi online, a partire dal 19 gennaio alla pagina http://www.bit.fieramilano.it/content/pre-registrazione del sito di Bit 2012, per avere accesso a due grandi concorsi riservati rispettivamente ai Viaggiatori e agli Operatori professionali italiani.
I Viaggiatori, una volta effettuata la pre-registrazione, potranno cimentarsi in un simpatico concorso "Malaysia: Fill in and Fly" alla scoperta della Malesia, destinazione che si propone sempre più come la risposta a chi cerca una vacanza da ricordare. Tra i partecipanti che avranno risposto correttamente, domenica 19 febbraio, nella sala Destination di Bit 2012 (pad. 4) sarà estratto a sorte un viaggio di una settimana per due persone comprendente volo e soggiorno all-inclusive.
Il secondo concorso "Maldive: Wish & Win" invece è organizzato per gli operatori professionali. Per celebrare quarant'anni di turismo italiano, le Maldive chiederanno al trade di esprimere in modo originale i loro auguri di compleanno per le Maldive, scrivendoli su un foglio che troveranno allegato al modulo di registrazione e che potranno lasciare in un box dedicato presso lo stand delle Maldive (pad. 2, stand B21C26). Da giovedì 16 febbraio a domenica 19 febbraio, ogni giorno l'augurio più fantasioso sarà premiato con un soggiorno di una settimana per due persone.
Per facilitare l'accesso agli stand ai partecipanti al concorso, totem e indicazioni saranno ubicati agli ingressi dell'area The World, che ospita gli stand della Malesia e delle Maldive. I due concorsi saranno promossi anche sui social network, con campagne su Facebook e Twitter.
Bit 2012 ti aspetta al quartiere fieramilano a Rho da giovedì 16 a domenica 19 febbraio. Per informazioni aggiornate sulla manifestazione: www.bit.fieramilano.it.