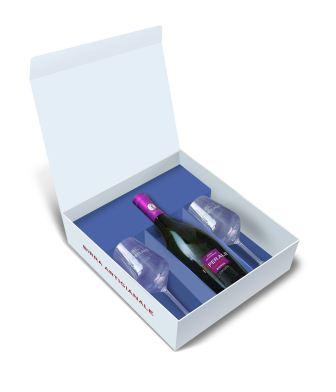 Si sa, la bontà della birra parte dalla purezza dell'acqua con cui viene prodotta e la birra bionda al triplo malto delle Tenute Collesi, situate ad Apecchio (PU) può vantarsi di essere fatta con l'acqua pura e cristallina del Monte Nerone,  oltre che con malto d'orzo, zucchero, luppolo, lievito e …tanta esperienza e passione.
Fermentata naturalmente in bottiglia e non pastorizzata, mantiene un gusto gradevolissimo ed equilibrato, che  richiama sentori di  pesca e  di albicocca . Si può sorseggiare da sola o lungo tutto il pasto, poiché si abbina facilmente sia a pesce crudo che a carni  rosse o bianche , a formaggi stagionati o a salumi.
Per le festività natalizie sarà un apprezzato regalo la birra al triplo malto, inserita in una  raffinata scatola bianca con interno blu, abbinata a due eleganti calici.
Il birrificio artigianale Tenute Collesi di Apecchio (PU), in occasione della 14ma edizione dell'International BEER Challenge di Londra ha vinto numerosi premi: sia per l'alta qualità delle sue birre sia per il packaging.
Sono, infatti,  ben tre le birre sul podio con quattro riconoscimenti. La medaglia d'Argento è stata assegnata alla Birra Ambrata Fiat Lux, mentre sono state attribuite ben due Medaglie di Bronzo alla Birra Rossa Ubi e alla Birra Nera Maior, a quest'ultima  anche la Medaglia di Bronzo nella sezione Design and Packaging, un premio che ha riconosciuto la raffinata eleganza del design italiano.
La bottiglia della nera Maior Collesi ha vinto la medaglia di Bronzo all'IBC di Londra nella sezione Design and Packaging a conferma della riconosciuta e raffinata eleganza del design italiano.
Foto by Tenute Collesi
Anna Rubinetto