I prodotti Lenovo, simbolo di tecnologia all'avanguardia e di design, al Salone Internazionale del Mobile 2016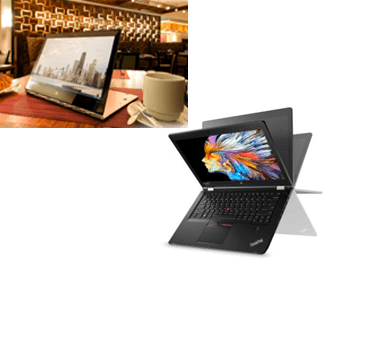 Lenovo: punto di riferimento del design, dell'arredo e del sistema dell'abitare, il Salone Internazionale del Mobile, che si apre il prossimo martedì a Milano, sta per accendere i riflettori sui prodotti e sugli oggetti di qualità più elevata e di maggiore portata innovativa al mondo.
Lenovo è presente a questa importante manifestazione mondiale con propri sistemi che coniugano l'avanguardia tecnologica con la bellezza delle forme e la cura del design.
"Il Salone Internazionale del Mobile è un appuntamento imprescindibile per il mercato del design ma soprattutto per la cultura e per la società connesse a questo settore. Un evento che ogni anno richiama l'attenzione globale sul nostro Paese; abbiamo voluto, quindi, partecipare al Salone con prodotti che portano valore non solo alle iniziative delle aziende con cui abbiamo collaborato ma anche alle persone che potranno sperimentarli direttamente in questa occasione", afferma Mirko Poggi, Amministratore Delegato di Lenovo Italia.
Lenovo si troverà dal 12 al 17 aprile in vari luoghi del Salone, a partire dallo stand di Candy (Pad.9 stand A01 B04) con i convertibili superflessibili YOGA 900, notebook sottili e leggeri ma incredibilmente potenti, i nuovi tablet YOGA Tab 3 Pro, con proiettore e sistema Dolby Atmos, e gli smartphone più eleganti Moto X Style, in associazione con i nuovi elettrodomestici con connettività NFC. Candy ha scelto i prodotti Lenovo per accogliere i visitatori e mostrare le nuove soluzioni dell'ambito Internet of Things.
Doppio appuntamento, inoltre, con il Fuorisalone, l'evento annuale che si tiene in concomitanza con il Salone del Mobile, che anima tutta la città di Milano con incontri culturali, workshop e iniziative entertainment.
A Ventura Lambrate, Lenovo è protagonista nello spazio di Wacom (via Ventura 14) "Wacom reveals the digital design workflow". Un'area dove Wacom presenta le proprie tecnologie con il supporto di desktop workstation Lenovo – le ThinkStation P310, P500 e P900 – e di mobile workstation ThinkPad P50, che gestiscono le tavole grafiche su cui architetti e designer hanno la possibilità di sfruttare al massimo la propria creatività e realizzare
progetti personalizzati. L'iniziativa è svolta in collaborazione con NVIDIA e si rivolge in particolare ai professionisti del settore fashion design e dell'architettura.
Presso lo Spazio Tortona, Lenovo è presente ai workshop Autodesk dedicati al mondo del design e dell'architettura. Autodesk, in collaborazione con Intel, offre ai designer una dimostrazione delle potenzialità grafiche dei software CAD 3D con le ThinkStation più innovative ed efficienti. Con ThinkPad P40 Yoga di Lenovo e il software Autodesk Fusion 360, i progettisti del comparto manifatturiero hanno l'occasione di creare oggetti 3D di utilizzo comune, grazie anche alla tecnologia Wacom integrata nel ThinkPad P40 Yoga, la prima mobile workstation convertibile al mondo – per questo porta il nome "Yoga" – che ha quattro modalità d'uso, utilissime anche nel mondo del design: tablet, tent, stand e – naturalmente – laptop.
E ancora, in esposizione presso lo spazio "Office" (via Tortona 20) la collezione MƎTHESIS di oggetti per la tavola realizzati appositamente da 10 fra i più noti designer nel mondo della stampa 3D.
Visita www.lenovo.com/it