Innovativo design circolare per il nuovo Gear S2 firmato Samsung, lo smartwatch più elegante e funzionale
Samsung  lancia il nuovo Gear S, lo smartwatch elegante  e facile da usare. Grazie al suo design circolare, l'esperienza d'uso diventa ancora più  semplice, intuitiva  e personalizzabile.
Ideato in due differenti versioni, Gear S2 e Gear S2 Classic, viene incontro alle esigenze e ai gusti dell'utente.
 Gear S2 Classic è pensato infatti per coloro che preferiscono scegliere un orologio intelligente dal design più elegante grazie ad una finitura nera combinata con un cinturino in pelle. Gear S2 è invece ideale per i consumatori sempre in movimento che prediligono quindi linee minimal e moderne.
"Negli ultimi anni, Samsung ha lanciato e apportato continue innovazioni nel mercato della tecnologia indossabile" ha affermato JK Shin, CEO and Head of Samsung's IT & Mobile Business. "Samsung Gear S2 rispecchia la più moderna innovazione. Smart, personale e divertente rappresenta il perfetto compagno per ogni occasione quotidiana, nella sfera professionale così come nel tempo libero, assicurando all'utente un'esperienza intuitiva e immediata".
Sottile e compatto, con uno spessore di soli 11.4 millimetri, Samsung Gear S2 porta eleganza e la migliore tecnologia al tuo polso. Il display circolare da 1.2 pollici con risoluzione a 360 x 360 (302 ppi) offre un'esperienza visiva senza precedenti nel mercato degli smartwatch. Le applicazioni vengono visualizzate con sorprendente chiarezza così che gli utenti non perdano notifiche importanti.
L'esclusiva ghiera rotante, combinata ai tasti Home e Back, assicura inoltre un più rapido accesso a notifiche e applicazioni più utilizzate. L'esperienza d'uso è inoltre semplificata grazie all'ultimo sistema operativo Tizen e al processore dual core da 1-Ghz ottimizzato. Gli utenti possono controllare agenda, e-mail, news e inviare messaggi direttamente dal proprio polso.
Grazie alle nuove funzionalità dedicate al fitness, l'ultimo arrivato in casa Samsung è perfetto per coloro che amano l'attività fisica, con un diario costantemente aggiornato sui propri miglioramenti sportivi e un reminder per raggiungere i propri obiettivi.
Samsung Gear S2 dispone di tecnologia NFC per effettuare pagamenti mobile. Samsung sta lavorando con un'ampia selezione di partner di differenti settori al fine di espandere l'utilizzo dei device indossabili in diversi ambiti della vita quotidiana delle persone, come aprire le portiere di auto intelligenti e camere di hotel e la gestione della casa connessa direttamente dal proprio polso.
La batteria di lunga durata permette di utilizzare Gear S2 per 2-3 giorni senza la necessità di ricarica, semplicemente posizionando lo smartwatch nella dock wireless senza bisogno di collegamento via cavo.
Grazie alla continua collaborazione con sviluppatori e partner, Samsung offre interfacce e applicazioni costantemente nuove e originali, con un'ampia gamma di quadranti e cinturini adatti a qualsiasi gusto, stile e occasione. Gli utenti possono facilmente personalizzare il proprio smartwatch cambiando il cinturino con un semplice click e modificandone il quadrante.
L'ampia gamma di applicazioni ottimizzate per l'interfaccia circolare del nuovo smartwatch Samsung arricchisce ancora di più l'esperienza Gear S2.
Samsung Gear S2 sarà disponibile nel colore Dark Gray con cinturino Dark Gray e nella versione Silver con cinturino White. Samsung Gear S2 Classic sarà invece disponibile nel colore Black con cinturino in pelle. Samsung Gear S2 e Gear S2 Classic saranno disponibili in Italia a partire da Novembre 2015.
Per ulteriori informazioni www.samsungmobilepress.com.
Caratteristiche Samsung Gear S2 e Gear S2 Classic: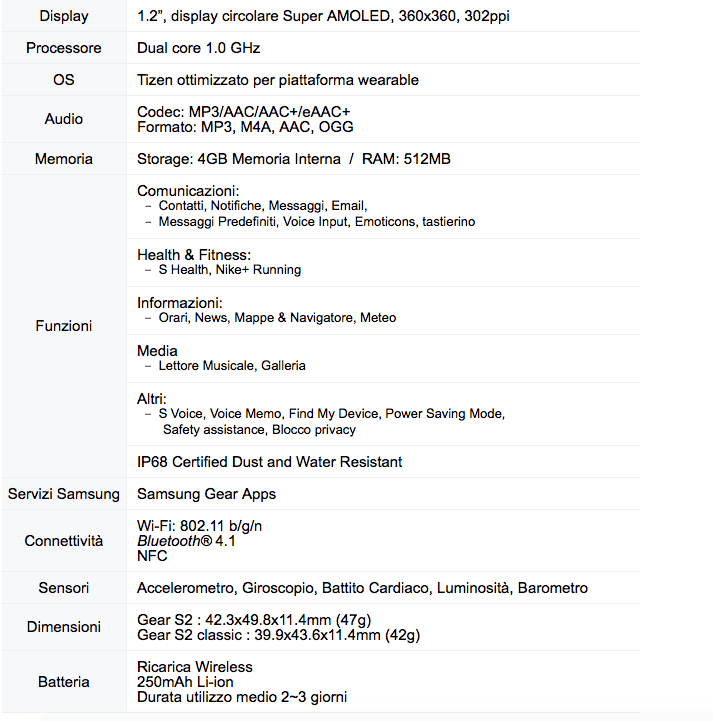 Per saperne di più, visitare www.samsung.com