Emy propone tante allegre novità per la casa
I nuovi prodotti per la casa di Emy, pensati per grandi e piccini, sono all'insegna dell'allegria e ci regalano un sorriso per vivere meglio ogni momento della  giornata.
A darci il primo buongiorno c'è Rufus, il gufetto profumatore per auto e ambienti che quest'anno ha allargato la famiglia inserendo nuove fragranze e colori, cold water con l'azzurro, green infusion con il fucsia e il vanilla con il nero. Disegnato dallo studio What's That ci incoraggia nella scelta dei vestiti e nelle code in macchina la mattina inebriandoci con piacevoli fragranze tutte da provare! Anche i cuginetti di Rufus, Wetty, allargano la compagnia e quest'anno è possibile trovarli anche in azzurro e fucsia. Simpatici umidificatori/vasi per radiatori disegnati da What's That donano un tocco di colore ai caloriferi ma possono anche essere utilizzati sulle scrivanie come sotto-vaso o come divertenti e utili bomboniere. I gufetti E-my scandiscono anche la giornata dei più piccoli con gli orologi da parete Carpediem dello studio What's That. Buondì, Pisolo, Dante, Quasimodo, Sky, Dreaming, Cucu e Up vegliano tutta la notte nelle camerette e danno il buongiorno al suonar della sveglia. Realizzati in vetro sono dotati di un movimento continuo e silenzioso ideali per sonni sereni e pieni di sogni.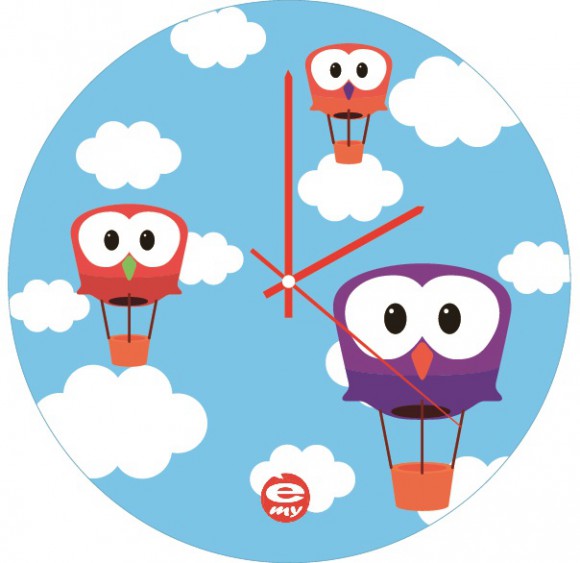 Quando i gufetti hanno freddo, nel magico mondo di E-my, si riuniscono e insieme sotto le coperte si scaldano con Warmy, insolita borsa d'acqua calda  rivestita in caldo cotone rimovibile e lavabile. E' disponibile nel colore panna  e diventa un'idea regalo perfetta per bambini di tutte le età grazie ai simpatici gufetti ricamati.
A strapparci un sorriso durante la giornata ci sono anche le bottiglie termiche Boys: Fred, Crazy, Cave e Sail, simpatici personaggi che non passano inosservati! Disegnati dal fumettista Raffaele Gerardi, allietano le pause al lavoro e a scuola. Realizzati in acciaio inox 304 sono infrangibili e mantengono a lungo la temperatura. Ideali da portare sempre con sé diventeranno compagni inseparabili ed ideali da regalare a colleghi o amici.
Dal carattere più avventuriero sono invece i pirati del mondo E-my: Morgan e Mary, due mug collezionabili dai colori vivaci. Disegnati dal designer Michiel Kruthof hanno una capienza di 400cc e un manico comodo e sicuro. Bandane, orecchini e cicatrici trasformeranno colazioni e momenti di pausa in incredibili leggende di mare. Ma il mondo E-my non finisce qui e tra personaggi buffi e pirati spietati troviamo anche un tenero coniglietto velocissimo sulla sua strada preferita: la pizza! Speedy, infatti, è una simpatica rotella pizza di colore bianco. Dalla presa comoda e sicura e dalla lama performante, Speedy, è lavabile in lavastoviglie. Fantastico alleato nel tagliare le pizze a casa, non passa inosservato e dona sempre un sorriso agli ospiti.
Colorato, divertente e spensierato, il mondo E-my offre una vasta scelta di irresistibili oggetti di arredo per la casa ed originali gadget che, grazie ad un design accattivante e tonalità accese diffondono energia positiva. Ottime come idee regalo per amici e parenti ma anche per se stessi, le proposte E-my ci portano  allegria nella nostra vita.