Femminile e sensuale la nuova Collezione Lingerie Christies AI 2014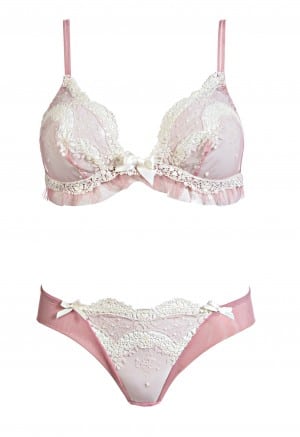 La nuova Collezione Christies AI 2014 evoca la femminilità morbida ed accogliente di una donna naturalmente sensuale, quasi felliniana.

Ricca di dettagli, ornamenti e trame a contrasto, la collezione presenta creazioni che occhieggiano alla femminilità  degli anni '50 e  all'allegria delle  balere.
La cura e la creatività del brand si esprimono nei tessuti nobili, nelle lavorazioni ricercate e negli intensi colori della palette cromatica.
Pizzo e tulle vengono rivisitati, rinnovati attraverso ricami di pregio e abbinamenti di materiali di natura differente. I modelli confermano i tagli che da sempre identificano il brand, sia per i reggiseni (a fascia, imbottito, push-up, ferretto coppa B e C e triangolo) che per gli slip (perizoma, culotte, slip e brasiliana), con l'inserimento di alcune modellature di tendenza che suggeriscono vite altissime con annessi tiranti da reggicalze, piuttosto che reggiseni a balconcino con rinforzo sotto seno in grado di sollevare ed esaltare un decolleté prosperoso.
La lingerie, che accompagna tutta la Collezione, esibisce fluide camicie da notte, pigiami in tessuto micro modal, alternate a parigine, sottovesti e camiciole.
Un ricamo macramé con motivo a ghirlande su tulle rigido trasparente distingue la serie Amadeus. Avorio, nero, e a contrasto rosa/avorio e tortora/nero per varianti capaci di esaltarne la lavorazione.
I modelli spaziano da reggiseno imbottito al classico ferretto, disponibili in coppa B, C e D, sino ai tagli più ammiccanti di balconcino e triangolo dalle marcate trasparenze, abbinati a molteplici parti basse dove è da segnalare uno slip alto ed un perizoma con dettaglio rouches. La lingerie alterna capi funzionali e pratici in micro modal, quali camicie da notte, pigiama e vestaglia, rifiniti dal ricamo in tulle, a sfiziose parigine ideate in tulle trasparente con dettaglio plissé e spacco su ambedue i lati.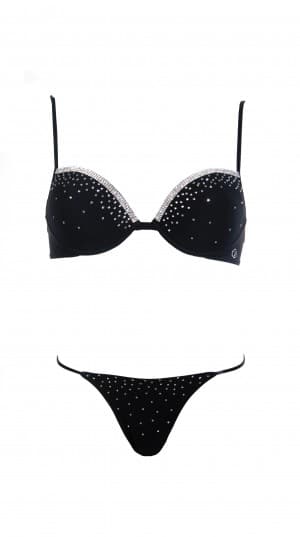 Morbida la balza in pizzo elastico Chantilly della serie Synphony impreziosita per alcuni modelli da dettagli Made with Swarovski Elements. Blu cobalto, nero, rosso e avorio per suggerimenti che celebrano una sensualità elegante e confortevole data da modelli capaci di avvolgere e risaltare la silhouette senza costringerla. I reggiseni, oltre ai classici imbottito, ferretto e push-up, trovano l'inserimento di un body con ferretto dal particolare intarsio sul giro gamba e sulla schiena con spalline larghe in tulle, un body a perizoma con minuzia di sottili stringhe ed un push-up con vistosi cristalli Made with Swarovski Elements ad illuminare il tessuto di base. 
Un ricamo cordonetto in seta lucida su base di tulle per la serie Première. Nei colori di tortora/beige, bianco, nero e grigio, al di là dei modelli già citati, propone una raffinata sottoveste con balza sul finale e dettaglio raso sottoseno. Ed un body confortevole in tulle e lycra doppiata, disponibile nelle coppe B, C e D.
Preziosa la proposta in leggero Chantilly della serie Jolie, pensata nei toni decisi di viola e nero. Ferretto a fascia, semi imbottito con micro cristalli Made with Swarovski Elements da coordinare a slip, perizoma, brasiliano sino ad un originale slip alto con tiranti amovibili si mescolano a proposte che al pizzo aggiungono la seta, quali la sottoveste a triangolo, l'abito pipistrello ed un reggiseno a triangolo da abbinare ad un inusuale perizoma che appare doppio.
Seta e pizzo caratterizzano la serie Cocktail, dove coesiste una variante in pura seta, seppur sempre in contrasto di colore. Viola/bordeaux, nero/visone e blu/ghiaccio per capi di corsetteria e lingerie che celebrano l'eleganza. Ferretto, push-up, triangolo, fascia, slip, culotte, perizoma, pigiama taglio uomo, kimono, sottabito, parigina ed un capo perfetto da esternare sotto le giacche, quale il top a triangolo con spallina sottile.
Cardigan, mantelle, maglie, maxi maglie, maglioni, top, guanti, abitini e giacche in morbida lana traforata distinguono la serie Artico. Pensata nelle varianti di avorio, nero, visone e antracite suggerisce capi avvolgenti per completare un look da casa o ideali  da indossare in esterno nelle giornate più fredde della stagione.
Immancabile il richiamo al Natale con capi luccicanti per le notti più mondane e chic. Cascate di cristalli, dettagli "Farfalla" o fili luminosi rigorosamente "Made with Swarovski Elements" per la serie Papillon, dove reggiseni, corpetti, body a manica lunga e senza maniche, tubini, abiti sirena, pantaloni aderenti e blazer sono pensati nella sola variante total black.
        Tutte le linee su: www.christieslingerie.it
Foto by Christies