Caschi FH Italia: l'ispirazione è anni '70!
Di ispirazione vintage, i caschi FH Italia evocano i divertenti anni '70. I modelli Brushed still hanno già spopolato a Pitti 2013 e sono diventati in breve tempo un must have per i motociclisti più attenti ai trend del momento. 

Omologati secondo le normative europee, i caschi sono stati grattati e riverniciati con una particolare miscela, rimasta per anni nei capannoni di vecchi depositi in Giappone.
Realizzato nel resistentissimo materiale, il modello total puro carbonio è essenziale e minimalista, oltre che molto leggero, perfetto per  andare sempre più forte!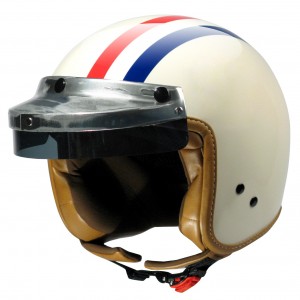 E proprio in onore delle competizioni più storiche, lo scorso inverno, Gulf ha realizzato una limited edition "up to date" ispirata al film icona "La 24 ore di Le Mans" interpretato da Steve McQueen, per celebrare  il quarantesimo anniversario dell'uscita della pellicola.
Foto by Caschi FH Italia