A Natale preziose confezioni regalo Clinians e Geomar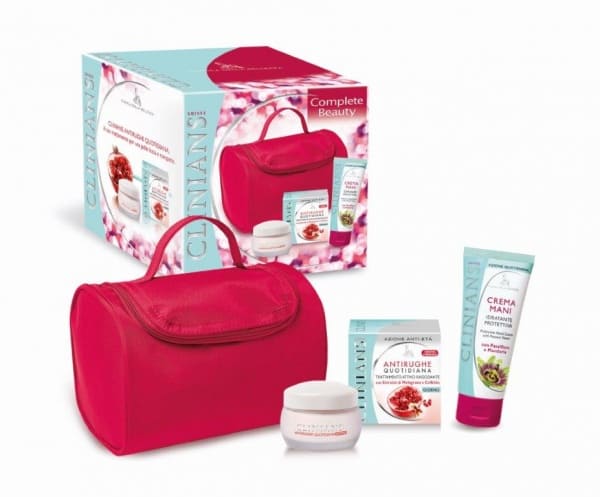 A  Natale con  le preziose confezioni regalo Clinians e Geomar –  tre speciali beautycase Clinians Daily Beauty, Clinians Complete Beauty e Geomar Viso –  tutte le donne  potranno prendersi cura della propria pelle con prodotti di grande qualità di derivazione naturale.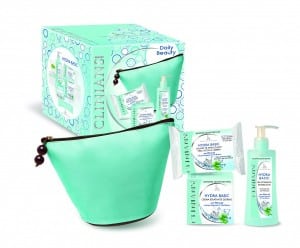 CLINIANS DAILY BEAUTY (10,29€*) è la confezione regalo perfetta per le più giovani, con un prezzo piccolo piccolo! Il delizioso beauty azzurro racchiude i prodotti della linea Clinians Hydra Basic pensati per una beauty routine fresca e delicata. Formulati con Minerali e Acqua Vegetale di The Bianco donano alla pelle un tocco di vitalità facendo apparire la pelle sempre giovane e fresca. All'interno del beauty, tre prodotti irrinunciabili per la bellezza quotidiana per rimuovere il trucco, detergere e idratare:
Le Salviette Struccanti Viso, Occhi e Labbra con Minerali e Acqua vegetale di The Bianco rimuovono efficacemente il make-up e le impurità, lasciando la pelle tonica e idratata. La formulazione senza alcool è perfetta anche per le pelli più delicate. Il tessuto morbido e la profumazione acquatica e fiorita trasformano la pulizia del viso in un gesto rapido e confortevole sempre a portata di mano  (25 pezzi).
Il Gel Detergente Rinfrescante con Minerali e Acqua Vegetale di The Bianco è un trattamento efficace e delicato che pulisce in profondità la pelle del viso, rendendola giorno dopo giorno morbida e vellutata. Adatto a tutte le pelli, Il Gel Detergente Rinfrescante elimina ogni traccia di trucco e impurità: si applica sul viso inumidito con un leggero massaggio e si risciacqua con acqua tiepida (150 ml).
Hydra Basic Crema Idratante giorno è una crema viso idratante dalla texture non grassa e il tocco cremoso e vellutato: si assorbe rapidamente donando un'immediata sensazione di freschezza ed idratazione. Contiene un Mix di Minerali che aiuta a migliorare la vitalità cellulare per una pelle fresca e vitale. L'Acqua Vegetale di The Bianco svolge un'azione tonificante ed antiossidante, l'Inositolo idrata efficacemente la pelle mantenendola elastica, mentre un Derivato Zuccherino crea un film invisibile che contribuisce a diminuire la naturale perdita di acqua transepidermica (50 ml).
CLINIANS COMPLETE BEAUTY (9,09€*) è il regalo perfetto per le giovani donne che a partire dai 30 anni desiderano preservare l'elasticità e la compattezza della pelle, contrastando gli effetti causati dagli agenti esterni. L'elegante trousse rossa contiene:
Antirughe Quotidiana Trattamento Attivo Rassodante Giorno, svolge una triplice azione: aiuta a contrastare la formazione dei radicali liberi, maggiori responsabili dell'invecchiamento cutaneo, a prevenire la degradazione del Collagene** e a mantenere il corretto stato di idratazione della pelle. Contiene Estratto di Melograno e Vitamina E che grazie alla loro attività antiossidante aiutano a contrastare la formazione delle rughe e la perdita di elasticità cutanea. La nuova formula è arricchita con Colhibin, un derivato delle proteine del riso, che protegge la pelle dai danni provocati dai raggi UV e previene la degradazione del Collagene**, contrastando i primi segni dell'invecchiamento. Il fattore idratante Zuccherino e l'Acido Ialuronico svolgono inoltre una spiccata azione idratante. La texture non grassa e dal tocco vellutato permettono un rapido assorbimento, donando un'immediata sensazione di morbidezza e idratazione. Giorno dopo giorno la pelle del viso appare più elastica, morbida e rassodata (50 ml).
La Crema Mani Idratante Protettiva con Passiflora e Mandorla è il prodotto specifico per prendersi cura delle mani creato per proteggerle e nutrirle tutti i giorni. La Passiflora aiuta a distendere e idratare la pelle, rendendola liscia e setosa mentre la Mandorla, grazie agli oli essenziali e alla Vitamina B in essa contenuti, lascia la pelle delle mani morbida e protetta dagli agenti esterni e dal freddo. La sua texture cremosa e vellutata si assorbe rapidamente senza ungere (75ml).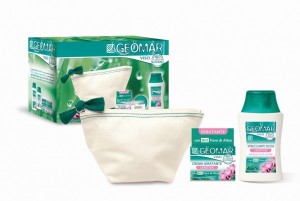 A tutte le donne che prediligono soluzioni beauty con ingredienti naturali, GEOMAR propone il cofanetto regalo GEOMAR VISO (9,09€). Il delicato beauty in regalo contiene:
Crema Viso Idratante Lenitiva formulata con Sea Moist Complex che aiuta a mantenere il corretto livello di idratazione della cute per 24 ore e Fiore di Altea Biologico, utilizzato fin dall'antichità per le sue riconosciute virtù calmanti, idratanti, decongestionanti, emollienti e protettive. Usata mattino e sera dopo la detersione, lascia la pelle, anche la più delicata, piacevolmente morbida ed idratata per tutto il giorno (50 ml).
Struccante Occhi Lenitivo: è un'acqua micellare le cui micelle, piccole sfere detergenti, eliminano efficacemente tutti i tipi di trucco. La sua formula, arricchita con Fiore di Altea Biologico e Aloe Vera, lo rende molto delicato e adatto anche agli occhi sensibili (150 ml).
www.clinians.it       www.geomarbeauty.it