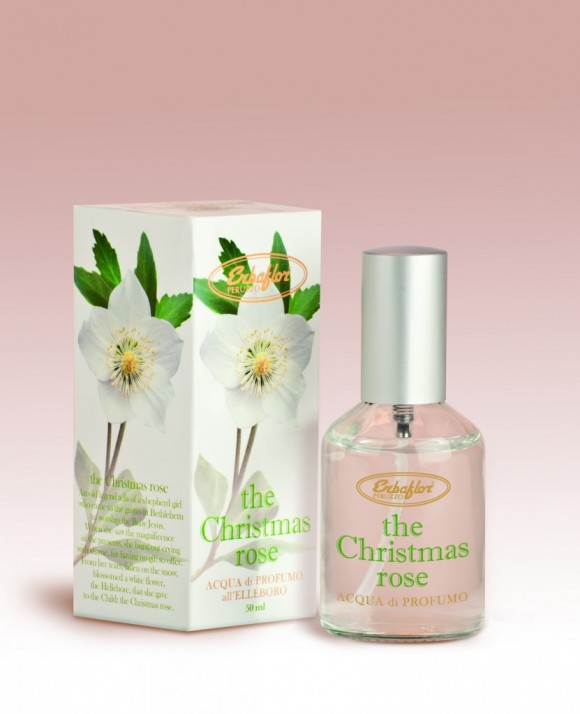 The Christmas rose è il nuovo profumo di Erbaflor all'Elléboro, fiore che gli inglesi chiamano Rosa di Natale, in virtù di un'antica leggenda. La nascita di questo fiore deriva, infatti,  dalle lacrime di una giovane pastorella, che non ha doni da offrire a Gesù bambino: un'espressione di purezza e candore che le emozioni della magica atmosfera del Natale evocano.
L'elleboro è un fiore bianco, delicato, ma tanto forte da sbocciare d'inverno su prati coperti di neve, e si associa facilmente al temperamento delle giovani donne di oggi, che affrontano la vita con entusiasmo.
The Christmas rose dà il nome a una linea corpo completa, che trasmette il profumo di Elléboro in una piramide olfattiva coerente per delicatezza, dove le note fresche sono addolcite dal fico, e in cui il muschio bianco si stempera in un fondo di muschio quercino.
L'acqua di profumo viene presentata in versione spray da 50 ml, in erboristeria o in vendita on-line su www.erbaflor.com, insieme a una linea corpo dalle formule ipoallergeniche, improntate all'assenza di coloranti e parabeni.
Erbaflor è un marchio nato negli anni '50 per identificare le ricette dell'erborista guaritore Iginio Peruzzo. Da allora più di 500 prodotti hanno vestito questo marchio, creandogli una solida fama nell'Erboristeria italiana.
www.erbaflor.com
Foto by Erbaflor Peruzzo Snc
Claudia Di Meglio