"The beautiful art of prints" di Francesca Bassi , tra nuance esclusive ed eccellenza artigianale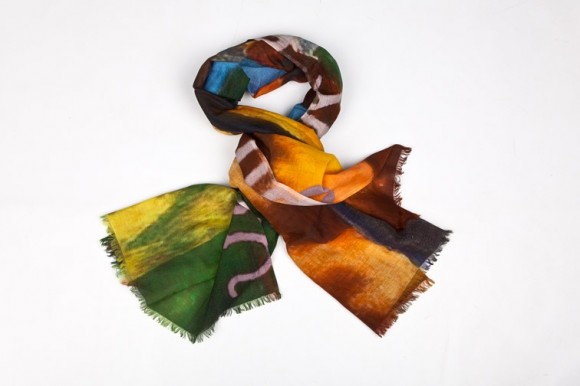 La collezione donna primavera/estate 2012 di Francesca Bassi testimonia l'eccellenza del made in Italy, con stampe caratterizzate da toni di colori esclusivi  e moderni: nuances vivaci, come  verde, rosso, fucsia e giallo si alternano alle  delicate  tonalità pastello  del rosa, menta, beige, albicocca e azzurro su  materiali adatti ad ogni occasione, come il cotone lavato, le mischie di modal con la seta e il lino, le garze di cotone animate dal lurex, le magline stretch ricamate. Straordinaria la seta, declinata in  impalpabili chiffon stampati, habutai vellutati dalla mano lavata e mussole trasparenti.
La linea FANCY GLAMOUR  veste i morbidi foulard di fantasie animalier, batik o African-style, ma anche di romantici motivi a fiori, perle e pizzi e di disegni madras dall'originale texture di pizzo e sangallo.
ART&PAINTINGS propone foulard, in  seta o cotone, che sembrano quadri, dove, accanto a finestre colorate aperte su bazar marocchini, compaiono spiagge dell'epoca vittoriana o sinuosi fiumi francesi d'inizio secolo.
I parei quadrati in voile di cotone della linea IRONIC SQUARES sono un invito alla vacanza, con le loro stampe multicolor, ironiche e giocose; molto versatili, possono essere usati dal mattino alla sera, annodati in vita intorno al collo o come morbide fusciacche.
Molto particolare la CAPSULE COLLECTION DIWALI, realizzata in India da abili artigiani, con splendide stampe  a mano multicolori, apprezzatissime anche dal pubblico maschile. I disegni tradizionali indiani vengono reinterpretati  nei colori identificativi del brand, su stole arricchite da profili in gros grain, allegri pon pon e ricami up&down con filati colorati.
Francesca Bassi ha realizzato anche la  stola TRIBUTE TO JAPAN, un modello esclusivo su cui la bandiera italiana si fonde con quella giapponese, tra mazzi di fiori campestri. I proventi della vendita di quest'elegante sciarpa saranno in parte devoluti per le operazioni di supporto della popolazione afflitta dal terremoto e dallo tsunami dello scorso 11 marzo, con il patrocinio della Croce Rossa.
Foto by Francesca Bassi
Claudia Di Meglio